Subscribe to Tribes and Vibes E-Newsletter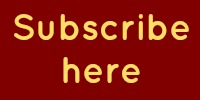 Sign up for our free TRIBES AND VIBES E-Newsletter, and receive exclusive access to "Subscriber Only Discounts" and latest additions to the shop.
Click on the "Subscribe Here" image which will take you to a GDPR compliant form, where you need to add your email details and then press "submit".
When you have subscribed, you will need to go to your email inbox and respond to the email which asks you to confirm your subscription request. After that, and usually within the hour, you'll receive our "Thank you" email which will give you a 10% discount code to use at any time. We won't bombard you with emails, we usually make contact once a week.
Your details will be forwarded to our marketing company, MailChimp. They are a highly reputable industry-standard marketing company who we have used for years because they respect your data and are GDPR compliant. We take great care of your details and treat your privacy with respect. We do not share, sell or trade your details with any one else except our marketing platform, Mailchimp. And if you wish to leave our subscribers list please click on the 'unsubscribe' link which appears at the bottom of each newsletter. For more information about MailChimp, please click here and for their Legal Policies, please click here.

When you are a subscriber, you will receive a "Treat Yourself Thursday" Newsletter every Thursday which gives you a special one-day (sometimes more!) subscriber-only discount which will be a minimum of 15%. It can be used either on all of our items, or selected items.